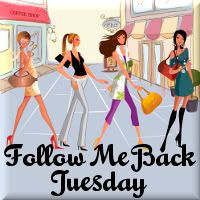 It's Follow Me Back Tuesday
It's a great way to start off your week & get more BF's !!
This weeks guest host is the winner of the Mission Monkey Raffle
Wanna be a FMBT Guest Host ??
Just link up your blog & every week we will draw a random winner for the #5 spot.
Good Luck & Have Fun !!
Follow all 5 Hosts 1 - 5 ( leave us a comment & we will follow u back- only leave a comment if you follow please )

Make a post about FMBT and add that link

Follow as many blogs as you would like ( Leave a comment so they can follow you back )

When you receive a comment from a new follower return the favor & follow them back
After this week, there will be a new link code available for you to grab every Tuesday at 12:00 AM Est. on all 4 Hostesses Blogs.
94

entries so far... you're next!