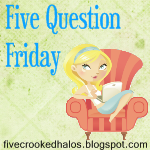 1.
Can you drive a stick shift?

Yes but not well! I grind gears a lot!
2.
What are two foods you just can't eat?

Liver and frog! Pretty self explanatory! I don't know how any one can eat either of those!
3.
Do you buy Girl Scout Cookies? What is your favorite kind?

Ooohhh yeah! My fav favs are Thanks A Lots but none of the troops around me sell them. My fav of the ones I can get is Do-si-doos!
4.
How do you pamper yourself?

Pedicures!!! Heaven!
5.
What is your nickname and how did you get it?

No nickname - how boring. :(