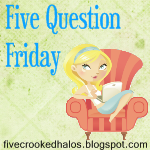 1. Would you rather be on ABC's Extreme Home MakeOver or TLC's What not to Wear?
Hmm - While I would like certain rooms in my house re-done, I wouldn't want it completely re-built. And I like parts of my style but would love a $5,000 shopping spree and to have my hair done by Nick. So definitely What Not to Wear!
2. Do you have any tattoos?
Yep - 4 of them and I have an appointment for a new large one on my side next month. I have 2 fariys on my lower back, Chinese symbols between my shoulder blades, a ladybug on a leaf on my hip and a ladybug on my ankle.
3. Do you tell your kids about things you did growing up?
While I will tell "When I was your age" stories, I wont tell them about a lot of things I did in high school. I wasn't exactly the best of kids.
4. If the traffic signal turns yellow, do you stop or speed up?
If it's nice out and I'm not running late - I stop. If the weather is icky or I'm in a hurry I speed up.
5. What's your preference: chocolate or chips?
Do I have to choose? I can't! There are times chocolate rules and times the salty chips win. Just depends.