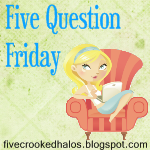 1. Where did you meet your spouse and did you instantly know it was love?
We meet at a Pizza Hut a mutual friend managed one night when he was on leave (he was a Marine). It definitely not instantly love. The first time we meet neither one of us cared for each other (bad first impression both ways). It wasn't until the next time he was back on leave that we clicked.
2. What is your favorite room in your house?
I love my kitchen. Not because I love cooking or anything like that but because we gutted it and redid it exactly how I wanted it. It is beautiful!
3. Can you wiggle your ears?
Nope
4. What is your evening ritual?
Hmm the only thing that is a ritual in our house is me falling asleep one the couch before 9pm while the hubby watches TV or does homework or plays video games.
5. How many hours of sleep do you need to function?
To function well - 7, minimum in order to get out of bed and do something 5
.