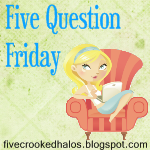 1. Do you open presents on Christmas Eve or Christmas Day? We open gifts from the rest of the family Christmas eve, then gifts to each other and Santa's gifts on Christmas morning
2. What is your favorite Christmas cookie (or candy)? Angel Wings
3. What's the worst Christmas gift you've ever received?
Hmm it would probably be back in HS when my grandmother bought me this ugly sweater that was about 3 sizes to big for me.
4. Christmas song that you love? My 2 favs are Buon Natale by Nat King Cole and Dominick the Donkey!

5. H
ow many trees do you put up? 3 - 2 at home and 1 in the office