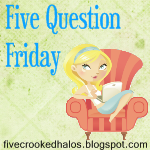 1. What's on the top of your holiday wish list and why?!
As sad as it is I just want a new pair of earmuffs. But not the cheap ones that adjust on top of your head. No I want those nice expensive ones that wrap around the back of your head. The ones that are like $20 a pair, aka why I haven't just bought them for myself.

2. What is your favorite Christmas gift from the past?My Pandora bracelet - the gift that keeps on giving. My mom got me the bracelet itself a few years ago. I love it but my husband not exactly as excited since I always want new charms. I have to admit my obsession with them has now lead to a second bracelet and a necklace since I had so many beads I "had" to have somewhere to put them all.

3. If you had life to do over, what would you be when you grow up?
Once I figure it out I'll let you know. But I can say I want to be something besides an office rat! I truly dislike sitting in my little cube everyday creating more and more pointless paper work!!

4. When do you put up your tree?
Always the weekend after Thanksgiving! It doesn't matter what is going on it must be done before I go to bed Sunday night that weekend!

5. What is your favorite Holiday?
That is a close tie between Christmas and Halloween. I love love love decorating for both holidays!