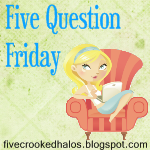 1. Do you regift...and if so, do you have a regifting horror story?
I have never regifted a gift I received from another person but I have gifted gifts I received from stores. No horror stores to go along with it.
2. Do you know what you are getting for Christmas this year?
I don't know but I better be getting my earmuffs!
3. Who brings the most gifts in your family, you or Santa?
In our house Santa brings the one "big" gift for the year, mommy and daddy give a few toys but mostly PJs and that type of stuff, and it's hit or miss for the rest of the family.
4. What store do you love to by jeans from?
Not a store a website - Newport News! Love their curvy stretch jeans!
5. Christmas meal: Big, All Out Meal or Snacks and Apps?
No matter where it is Christmas meal is a big all out meal!